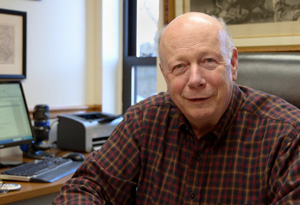 After returning from Vietnam, Bill Adams worked in the Pittsburgh Public Schools as an elementary school librarian. In the late 1970s, and with a modest $10,000 inheritance, Bill resigned from his job. Responding to the energy crisis at the time, he developed "window blankets." They were simple: bubble wrap held to attic windows by suction cups to keep heat from escaping. When this product proved too difficult to market, Bill focused on using suction cups to enable retailers to hang signs in their windows without sticky tape residue.
With this idea in mind, Bill started developing plans to retail suction cups to hardware, craft, variety and office supply stores. He secured contracts with just about every hardware store within a couple of hundred miles of Pittsburgh. After establishing the basics to manufacture suction cups in Portersville, PA, he got a call from an irritated customer in South Carolina. The customer told him that Adams' suction cups had scorched the leather dash of his Mercedes by focusing sunlight like a magnifying glass.
It was then that Bill realized that not only must suction cups be perfectly made in order to work, but they also should be re-engineered to do no harm. He redesigned the suction cups to disperse, rather than focus, light.
That was a big step for Adams Manufacturing. Since our humble beginnings in 1976, the company has gone on to become an innovative maker of injection-molded consumer product, providing jobs to nearly 300 friends and neighbors in and around the small picturesque town of Portersville, Pennsylvania.
Our state-of-the-art manufacturing plant transforms resins into a wide variety of products sold to leading mass merchant, online and hardware retailers around the world. We've also become the world's leading supplier of suction cups.
Over the years, Adams' product lines have expanded from suction cups. We now manufacture folding and stacking outdoor furniture and Adirondack chairs in a dozen colors. The latest addition to our growing line includes adult and kid-sized stacking rocking chairs, along with a line of furniture designed to accommodate individuals with larger proportions.
Adams proudly creates some of the safest, most innovative products on the market today. Although Adams has grown into a world-class supplier, we cherish our small-town values and continue to think of ourselves as a "family business."